The Paediatric and Child Health Association (PACHA) of Malawi in partnership with the Ministry of Health and UNICEF have designed, piloted and are rolling out a course to train healthcare workers in facilities to care for young infants and neonates. This is called the Care of Infants and neonates (COIN) course and is being rolled out nationally.
The pilot was carried out with staff at QECH in Blantyre in July 2015 and involved extensive feedback from the participants and facilitators, which helped refine the content and teaching methods for use in Malawi.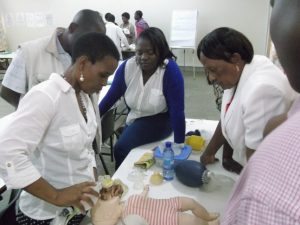 Teams from 10 district hospitals are trained in teams of five. Laminated job aids are presented to them for use upon return to their own hospital.
So far 200 health care workers have undergone the 5 day training and currently the Association is training 25 healthcare workers in the two main referral hospitals, Queen Elizabeth Central Hospital (QECH) and Kamuzu Central Hospital (KCH).
The course is innovative as it also includes sessions on audit and quality improvement and focuses on the maintenance of essential equipment.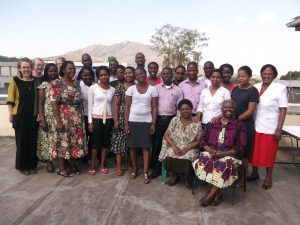 Teaching methods includes short lectures, drills, scenarios, quizzes and videos.
The award of a COIN certificate only takes place after the candidate passes a test of knowledge (must score 80% to pass), attitude and skills (perform resuscitation in a scenario setting).
For more information on PACHA, please see their website.