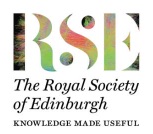 Each year the Royal Society of Edinburgh, Scotland's National Academy  elects new Fellows.  This year a total of 60 have been included including Kirsty Ward the broadcaster the novelist Val McDermid and the Duke of Cambridge.
The strength of the RSE lies in the breadth of disciplines represented by its Fellowship. This range of expertise enables the RSE to take part in a host of activities such as providing independent and expert advice to Government and Parliament, supporting aspiring entrepreneurs through mentorship, facilitating education programmes for young people and engaging the general public through educational events.
Congratulations also to Stephen who was also elected this year and joins this distinguished group.