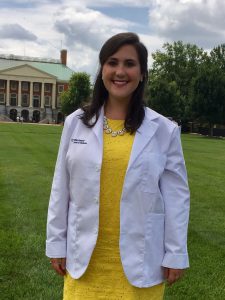 Danielle Horridge at her "White Coat" ceremony
Congratulations to Danielle Horridge, who worked with the infection group on Mycoplasma genomics, who has started here medical course at Wake Forest University School of Medicine.  Wake Forest School of Medicine is the medical school of Wake Forest University, located in Winston-Salem, North Carolina.  Danielle really must have caught the microbiology bug as she has just returned from the American Society for Microbiology's annual Microbe conference in New Orleans where she presented on her honors thesis that focussed on H. pylori.
Best of luck for your Medical course!