Translating Molecular Bacterial Load Assay
to Policy and Practice
An International Conference
11-13 June 2018 . School of Medicine University of St Andrews

implemented

upcoming
PHE Porton Down, England
PHE Porton Down, Salisbury, England
PHE Porton Down, England
Manor Farm Rd, Porton Down, Salisbury SP4 0JG, UK
Raboud University, Netherlands
Raboud University Nijmegen, University Medical Centre, Amsterdam, Netherlands
Raboud University, Netherlands
Comeniuslaan 4, 6525 HP Nijmegen, Netherlands
University of St Andrews, Scotland
School of Medicine, University of St Andrews, Scotland
University of St Andrews, Scotland
St Andrews KY16 9TF, UK
Shoklo Malaria Research Unit, Thailand
Shoklo Malaria Research Unit, Thailand
Shoklo Malaria Research Unit, Thailand
Mae Sot, Mae Sot District, Tak 63110, Thailand
Oxford University Clinical Research Centre, Vietnam
Oxford University Clinical Research Centre, Ho Chi Mine Hanoi University of Pharmacy, Ha Noi, Vietnam
Oxford University Clinical Research Centre, Vietnam
13-15 Lê Thánh Tông, Phan Chu Trinh, Hoàn Kiếm, Hà Nội, Vietnam
Maputo National TB Reference Lab, Mozambique
Maputo National TB Reference Lab, Mozambique
Maputo National TB Reference Lab, Mozambique
Maputo, Mozambique
Tanzania
Kilimanjaro Clinical Research Institute, Tanzania
Kibongo'to Infectious Diseases Hospital, Tanzania
NIMR-Mbeya Medical Research Centre, Tanzania
Tanzania
Moshi Urban, Tanzania
College of Medicine University of Malawi, Malawi
College of Medicine University of Malawi, Malawi
College of Medicine University of Malawi, Malawi
P.O. Box 280 Chancellor College, Zomba, Malawi
University of Cape Town, South Africa
University of Cape Town, South Africa
University of Cape Town, South Africa
Rondebosch, Cape Town, 7700, South Africa
Stellenbosch University, South Africa
Stellenbosch University, South Africa
Stellenbosch University, South Africa
Stellenbosch Central, Stellenbosch, 7599, South Africa
National TB Reference Laboratory, Moldova
National TB Reference Laboratory, Moldova
National TB Reference Laboratory, Moldova
Moldova
University of Singapore, Singapore
University of Singapore, Singapore
University of Singapore, Singapore
21 Lower Kent Ridge Rd, Singapore 119077
Makerere University, Uganda
Makerere University, Uganda
Makerere University, Uganda
Kampala, Uganda
Lambarene Medical Research Centre, Gabone
Lambarene Medical Research Centre, Gabone
Lambarene Medical Research Centre, Gabone
Gaborone, Botswana
Bagamoyo, Tanzania
Bagamoyo, Tanzania
The Molecular Bacterial Load Assay (MBLA) stakeholders conference is technology transfer conference. The conference will bring together users and potential users of MBLA and policymakers from across the globe, and representatives from World Health Organisation.
MBLA is a novel tool developed to foster rapid detection and monitoring tuberculosis treatment response in real-time for timely clinical decisions.  Tuberculosis is currently the leading infectious disease that kills more people in the world. The need for an effective tool for management of the disease have never been more urgent.
This conference, scheduled for 11-13th June 2018 at University of St Andrews will provide a platform for users and policy makers to share their field experience working with the test, and advise how it can best be taken up into clinical practice.
Please email mblaweek@st-andrews.ac.uk for more information about the conference.
What is MBLA?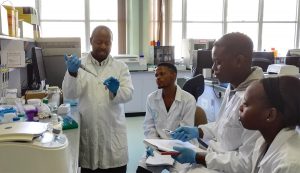 MBLA stands for the molecular bacterial load assay.   Bacterial culture, the main method used to assess the performance of treatment regimens and laboratory diagnosis of tuberculosis (TB) is very slow.  By the time the results are available it is many weeks after the patient has visited the doctor and the result is of much less value.  TB culture requires high biosafety containment facilities and staff training, the cost of which is a significant barrier to implementation in most low and middle-income countries (LMIC) with a high TB burden.
The Molecular bacterial load assay (MBLA) was developed and has been progressively developed since then.  It works by amplifying the 16S ribosomal RNA (rRNA) of M. tuberculosis in a PCR reaction which takes less than four hours. This target was chosen because it is stable, occurs in higher quantities and reflects cell viability.  It is specific to M. tuberculosisand the result is not compromised by all of the other organisms that are found in patient samples.
Thus, the MBLA can be used to diagnose tuberculosis, quantify the number of live organisms rapidly and because of this it can tell whether a patient is responding to treatment rapidly.