The Living Life in Fife: supporting healthy lifestyles in Scotland event was a free event on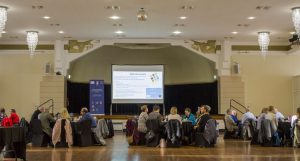 Wednesday 19th September 2018 funded by Fife Sports and Leisure Trust (FSLT) and the Economic and Social Research Council (ESRC) and run in collaboration with the University of St Andrews.  The event aimed to share knowledge and encourage discussion and collaboration between academics, government and voluntary sector organisations, health care professionals, service users and members of the public.  A broad range of topics around healthy lifestyles were covered, including physical activity, local and national initiatives like parkrun and Football Fans in Training, policy and opportunities to engage with change, as well as food poverty and availability in Fife.
Those attending the event braved Storm Ali to make  their way to Glen Pavilion in Dunfermline, travelling both from Fife and further afield (Edinburgh, Glasgow and Dundee).  The event began with a short introduction from Rachel Nutt, organiser and PhD student at the University of St Andrews, School of Medicine, followed by a short welcome video from Sir Ranulph Fiennes.  This was followed by talks from Fiona Prendergast of Fife Sports and Leisure Trust about the various programmes offered by FSLT supporting healthy lifestyles.  Dr Gozde Ozakinci of the University of St Andrews spoke about the psychology of healthy lifestyles and behaviour, before Derek Grieve, the head of the Active Scotland Division at the Scottish Government updated us on work and policy at the government level, particularly the new Active Scotland Delivery Plan.  Stevie Chalmers from the Scottish Premier Football League Trust talked about the now national initiative, Football Fans in Training and Liz Corbett of parkrun described the work of parkrun and opportunities to get involved.  There was then a session giving an example of work in Fife supporting healthy lifestyles – cardiac rehabilitation.  We heard about this programme, a collaboration between the NHS and FSLT, from the perspectives of the instructor (Sheona McHale), cardiac specialist nurse (Anne McEwan) and academic (Rachel Nutt) but also from individuals who had been through the programme (Don Deveney and Stephen Ward).
The event also included a discussion section where attendees shared information about themselves and the activities they were involved in, before giving questions to a discussion panel (Dr Carolyn Deighan, a health psychologist from NHS Lothian; Malcolm MacTavish, a Fife jog leader; and Fiona Ashton-Jones, physical activity co-ordinator at Fife Council).  Professor David Crossman, Dean of the School of Medicine at the University of St Andrews and Chief Scientist, Health for Scotland delivered a keynote speech on the importance and challenges in supporting healthy lifestyles.  The final sessions of the day were around diet, with Dr Anna Gryka of Obesity Action Scotland describing the current issues and policy in Scotland, followed by Iain Anderson of Fife Councils Community Food Team describing the challenges and initiatives tackling food poverty and availability in Fife.
Organising Team: Rachel Nutt, Dr Ed Wallace (also FSLT) and Dr Gozde Ozakinci of the University of St Andrews, School of Medicine.