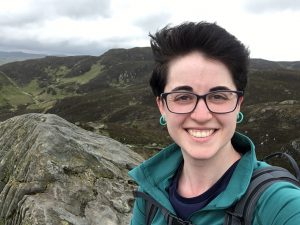 The School of Medicine would like to send a big congratulations to Sydney Brown, who graduates on Friday from the University of St. Andrews after completing an MSc in Research of Medicine.  Sydney started off her education in California, where she studied neuroscience which ignited an interest in the medical field. After practising for a few months as an Emergency Medical Technician (EMT), Sydney realised that she wanted to explore the medicine route further. She made the leap across the pond to the University of St. Andrews, where she completed a Bachelor of Medicine.  Along the way, Sydney realised that research was where her passion lies, which led her to apply for a master's in research of medicine at the university.
Moving to Scotland was a huge change for Sydney, having spent most of her life dotted around the United States along with a brief stint in London. Although she was a bit older than the majority of undergraduate students, she did not let this stop her from getting involved in all that the university had to offer. That first year, she met great friends that followed her through her time in St. Andrews.  During her bachelors, she tried a lot of new things including mountaineering, MMA, and even Scottish country dancing. She completed her Bachelor studies in 2019 and began her MSc that same year.
As everyone knows, 2020 turned out to be a different year than expected.  Sydney was lucky that she completed the experiments for her thesis before the labs closed in March and spent the first few months of lockdown writing up her thesis.  She received incredible support from her supervisor, Dr Simon Powis.  Sydney moved home to the States in July 2020 and after almost a year of applications, she landed a job at Johns Hopkins University and Hospital, in Baltimore, Maryland.  Sydney started the new job just this week and is very excited for the new challenge.
Sydney looks back fondly at her time at the University of St. Andrews. She said "the thing I will miss most is the people, there is such an amazing community within St. Andrews. I think the size of the school bolsters the type of education that you receive and what you get out of the school. In my experience, there was so much invested in every student". The faculty at the School of Medicine wish Sydney the best of luck with her future career and hopes she will come back to visit soon!