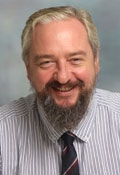 The School of Medicine would like to congratulate Dr Jonathan Issberner on his recent promotion to Professor of Medicine. Jonathan joined the University of St Andrews as a Research Associate in Professor Silar's lab in 2005, looking at the electrophysiology of neuronal networks in the spinal cord of Xenopus laevis. In 2009, he transferred away from his neuronal research and into the School of Medicine as a Teaching Fellow.  By 2011, Jonathan had taken up the post of Deputy Director of Teaching, and in 2015 became Director of the (then) only medical course the school offered.  During this time, he developed an interest in UK-wide medical education and in 2017, he was awarded a three-year secondment to the Proctor's Office as Associate Dean of Science (Education), where he assisted the Dean of Science in the quality assurance and the administrative aspects of running the eight Schools in the Faculty. 
Within this role, Jonathan was able to work with a talented group of people on a variety of important projects including the initiation of the University Enterprise Education project; the creation of formal partnerships with Hong Kong University, Trinity College Dublin and Tufts University through the Laidlaw undergraduate research and leadership scholars scheme and initial development of the St Andrew's Learning & Teaching Initiative (SALTI).   In 2019, Jonathan became joint acting Dean of the Faculty of Science, which in 2020 transitioned to sole Acting Dean.  During his time at the Proctor's Office, the university experienced two significant industrial action events, the COVID-19 pandemic and three different Proctors.  As Acting Dean, Jonathan was able to lead and collaborate on the creation of many of the policies and procedures for online provision, examination and staff safety, as well as developing strong links to other UK and overseas Universities. 
Before finding a home at St. Andrews, Jonathan had a very interesting and varied career. After completing an undergraduate degree in biological sciences, Jonathan followed his passion for music, beginning his career as a jazz and rock musician, playing in pubs and clubs across London, Brighton and Bristol. From here, he made the transition to become a self-employed recording engineer, creating mixes of demo tapes for local bands. After learning the basics of the trade, Jonathan got a job as a research technician in a cardiac research laboratory at the University of Bristol, with specific interests in cell signalling and cardiac electrophysiology. The combination of Jonathan's background in biological science and agriculture along with and his interest in electronics gained through his experience as a recording engineer gave him a unique perspective on problem-solving and provided a very useful toolkit of transferable skills in the lab. Discovering a passion for research, Jonathan then undertook an MSc in Cardiac Physiology, followed by a PhD in Neurobiology and Neuroscience. 
After completing his PhD, Jonathan spent five years in the United States, where he continued building his research portfolio as a Research Professor at Tufts University, MA. He contributed to Professor Trimmer's ongoing research programme aimed at developing soft-bodied robots for use in confined spaces such as spacecraft or even ultimately the human body. Jonathan's specific interest lay in the neural control of locomotion and how caterpillars move with high degrees of freedom using the combination of a simple neuronal relay system hydraulics and cuticular design. After developing a severe allergy to the moths used to generate caterpillars for his research, Jonathan returned to the UK, where he began his journey at the University of St. Andrews. 
Jonathan relishes his diverse range of experience and varied career journey, commenting that he feels having "a finger in many pies" has been a great help to him in the synthesis of new ideas and in providing a fresh approach to problem-solving, as he can draw on a broad knowledge base. He highlights that some of his experiences are a result of uncontrollable personal circumstances, however, his drive for scholarship has helped re-orient these potential setbacks into new paths and challenges.  
Jonathan is passionate about equality and diversity in education, and he is eager to help promote this ethos at the University of St. Andrews. Reflecting on his journey and the people he has met along the way, Jonathan recognises the influence that teachers, colleagues, and others had on his career pathway, and he is keen to provide this kind of support to his students in their learning and career journeys. In addition, Jonathan is looking forward to contributing to the great work that his colleagues are already doing in developing teaching at the university and growing the university's reputation nationally and internationally.