The School of Medicine would like to congratulate Veronica O'Carroll on her promotion to Senior Lecturer at the University of St. Andrews.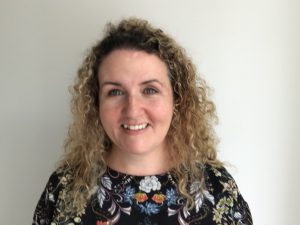 Veronica, who is currently the Director of Postgraduate Teaching (PGT) at the School, says that she is grateful for the support, encouragement, and mentorship that she has received from colleagues and is excited for this next chapter.  Veronica is a qualified nurse and has wide-ranging experiences and research interests across healthcare and academia. 
Veronica began her journey within academic teaching at the University of St. Andrews in 2007,  teaching clinical skills and then as Clinical Lecturer in Interprofessional Education.  After a stint as a Lecturer at the School of Nursing, University of Dundee, Veronica returned to St. Andrews in 2017, where she continued to develop her clinical teaching experience.  This same year, Veronica completed her PhD from the School of Psychology and Neuroscience at the university, under the supervision of Dr Martin Campbell, investigating health and social care professionals' attitudes and perceptions of interprofessional practice and learning.    
In her role as Director of Postgraduate Teaching, Veronica is responsible for leading the development of strategy and policy for learning, teaching, and assessment of taught postgraduate courses at the School of Medicine.  Since taking on this role in July 2020, she has been able to gain a better understanding of our current PGT courses within the School and the relevant University processes that are required for the smooth running of a course at masters level.  Working with the MSc Health Psychology programme team this past academic year has enabled her to understand the needs of our postgraduate community of students and appreciate that this programme has built important foundations for the future development of PGT.  She has also been able to gain insight into the first very successful year of the MSc in Digital Health, co- directed by Silvia Parracchini, School of Medicine, David Harris-Birtill, School of Computer Science, and administered by the Graduate School.  
Veronica maintains that she has always felt very supported in her professional development within the School.  As well as fulfilling her teaching role, she has been able to retain her registration as a nurse with the Nursing and Midwifery Council and has pursued her research interest in interprofessional education, collaborative practice, and telehealth.  Over the next academic year, Veronica is excited to explore new opportunities to develop part-time, online MSc programmes and micro-accredited short courses.  She states that through current health service partnerships, the Mackenzie Institute for Early Diagnosis, and the award-winning Learning Technology team, there are fantastic opportunities to harness current expertise and build on existing postgraduate teaching.  As demands on the Health Service increase, it is important to consider how we can support continuing professional development of healthcare workers, educators, and researchers.  The last 18 months have shown what excellent quality online teaching and learning looks like and proves that bringing 'the St Andrews experience" to online learners is still possible. With Veronica at the helm, no doubt exciting developments lie in store.